Marie Emmanouil, Legal Counsel and Compliance Officer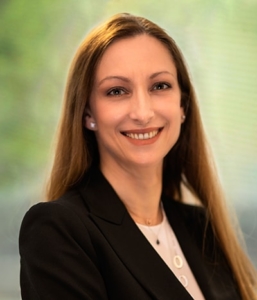 Marie Emmanouil is Legal Counsel and Compliance Officer of Trastor REIC.
Before joining Trastor she worked in the Legal Affairs Division of Piraeus Bank from 2006 to 2018, where she held the positions of Manager and Senior Manager. In 2015 she assumed the position of Director in the Legal and Corporate Affairs, Investment & International Banking Division and since 2016 was member of the Bank's Legal Counsel. Earlier she had worked in a reputed law firm and a Group of companies in the pharmaceutical sector. Marie has been an Athens Bar attorney since 1999. Her expertise covers company law and transformations, corporate governance, capital markets, contracts / procurement and data protection.
Marie holds a Legum Magister (LL.M) with Distinction from the University of Kent (International Commercial Law), Bachelor of Laws (LL.B) from the University of Athens, Faculty of Law and Data Protection Officer Certification from the Hellenic Institute of Certifications.